Here's a personal message from our longtime friend, Apathy. One of the best rappers we have ever heard and a guy easy to root for.
Well...
This is it...

The day i've been killin' myself for. March 21st 2006.

If any of you are friends with me... or know me... you know how hard i've worked on this album. Physically and mentally.
Eastern Philosophy is my baby. And i'm beyond proud of it...
it's a real big deal to me.

Most artists just shit out an album or record, song after song, and decide which ones they wanna throw on. But I approached this album with a whole different mind set, from every other project i've ever worked on.
I wanted this to reflect how I see things... and more importantly, I wanted to show all of you who are my friends, fans, or both (hopefully)... that I care about quality music nowadays. Especially my music.... for the simple fact that you don't HAVE to listen to my shit, and you do.

If you show me love... i'm humbled, and amazed... that the thoughts and ideas I have, can relate to more people than just that asshole, I stare at in the mirror everyday.

If you don't like the album... I really don't know what to say.
An overwhelming amount of the feedback I received was positive... but if you had higher expectations, or thought it was wack...
All I can tell you is that I tried my best, to make music that I like.

I was gonna say something negative, like "Well... fuck you then, i dont give a shit".... But i'm tired of all that. I'm passed that.

I make music I like. Fuck that... I make music I love.
And I love this album. And I hope you do too.


Thank you all so much, for listening for this long.

Real talk

Ap

Check out his myspace page,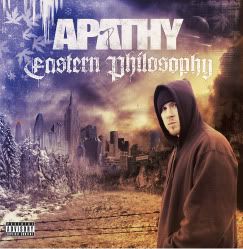 Just bought a copy of his CD today at the BestBuy in Burbank, California. It's amazing and well worth it.