What a life this little video has had. It has now been viewed millions of times and uploaded onto dozens upon dozens of websites. With it, has come a lot of controversy and discussion.
Please enjoy it again and if you are so obliged, pass it on.
Religious Freaks Gone Wild
http://www.motion.tv/video/0000859c/religious-freaks-gone-wild-video.html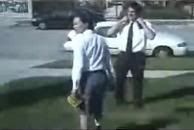 If you want to own the video, you can purchase it for 35 cents from this site. From there you can stash it on your iPod or other electronic devices.
http://www.si-mi.com/ContentDetail.aspx?id=999&screenid=37
Thank you for your support.