Make it a dirty dozen for "Shoot-Out" as in 12 Official Selections for our critically acclaimed short film about two men playing a game of 1-on-1 basketball...to the death. It is written & directed by David Branin and stars Tyshawn Bryant and Daniel Sol.
For more on "Shoot-Out" please visit our official site
http://www.dreamregimeproductions.com/shootout.html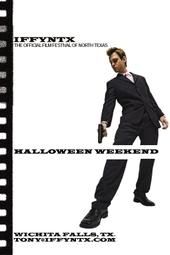 Believe it or not, it will be Shoot-Out's second screening in Wichita Falls, TX. IFFYNTX will run from Friday October 27th - Sunday October 29th. The film schedule and venues will be released soon.
For the latest information please visit www.iffyntx.com/
Also check out their myspace page http://www.myspace.com/iffyntx