We can hardly believe this one! Wow! Incredible news for us. Our critically acclaimed independent basketball film has been put on the cover of Hoops Magazine! This came out of nowhere. Just as amazing as our film being put on the cover and the incredible article they wrote on "Shoot-Out" is the story on how all this came to be.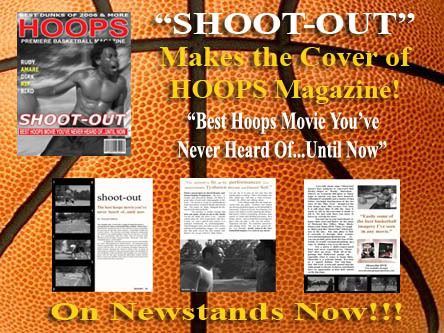 Several months ago we contacted Hoops hoping for a review or interview. We were politely rejected and in most cases that would be that. We stayed on them and continued to make our case as to why the film should be looked at. We were given a few more rejections and then we stopped hearing from them all together.
Just to have the last word, we mailed it off to them and on the envelope put "Must See. One Basketball Game...to the Death!" We then forgot about it and continued about our business. The part coming up shows that prayers can be answered.
An intern at Hoops became curious about our package which had been sitting around in the mail room for weeks. He opened it up and played the movie to see how bad it was. Turns out he loved it and so he began showing people around the office. By the end of the week the whole office had seen it and it was passed onto the chief editor. We were then contacted and you see the results.
We are overwhelmed and we cannot thank Hoops Magazine enough! Your praise and dubbing it "Best Hoops Movie You've Never Heard Of...Until Now" is awesome!
We are doing our best to promote the film and to have more people see it. This should help us tremendously. To go along with this big news, we are putting the first three minutes of the film online in the very near future so please stay tuned.
To those who don't own the DVD, please show your support by picking it up through
www.dreamregimeproductions.com
We have put a lot of hard work and effort into the project and we believe you will see that work shine through.