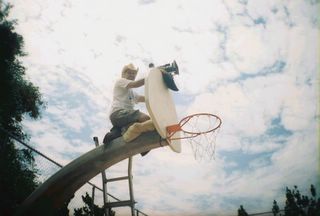 It wasn't unusual for our DP to find himself in a spot like this
during the shoot. Relentless worker and the man who helped lead
us from start to finish, Ivan Rodriguez.
Two warriors of our crew who rarely took a break, Sound/Boom-Op
Jesse Pinder and First AD Andy Brennan.
Make-up and Special Effect Artist Keith Beck
was on hand to showcase his expertise.
Key PA Kevin Deen was there to keep everyone happy
and looking good, including Actor Tyshawn Bryant.
Our set photographer and script supervisor Karen Worden
In the midst of this shot, you will find our
Mr. Do Everything, Mik Gin, wearing the striped shirt.
New JetBlue Card from American Express ®