We have received a lot of inquiries whether or not "Religious Freaks Gone Wild" is real or not. There has been a tremendous amount of discussion and controversy surrounding the subject since we posted the video clip online in March.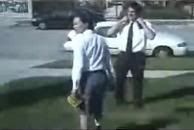 Whatever truth you see in this video is the truth you are meant to see.
You will believe what you want to believe.
Whether you love the video or hate the video, if it strikes a chord within you, it has done what it is supposed to do.