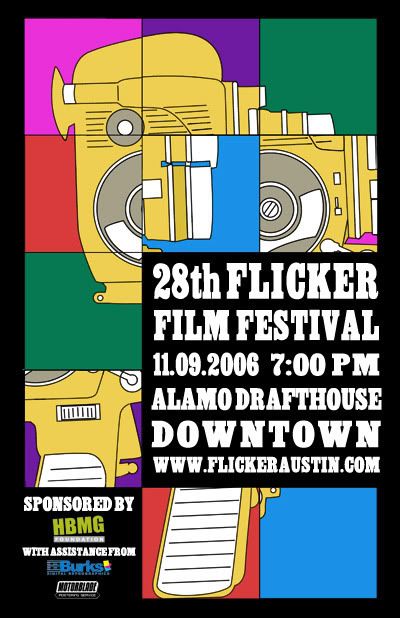 "Shoot-Out" is an Official Selection to the Flicker Film Festival in Austin, Texas. Coming off of two previous screenings in Wichita Falls we are excited to have the opportunity to screen in the budding filmmaking city of Austin.
"Shoot-Out" is the critically acclaimed and award winning story of two men playing a basketball game of one-on-one...to the death. It has recently been featured on the cover of "Hoops Magazine" as well as www.streetballin.net, www.streetballonline.com, and www.ElevationMag.com. It stars Tyshawn Bryant and Daniel Sol and was written and directed by David Branin.
More on the Flicker Film Festival: Austin
Madmen, UFOs, and fairy tale princesses will converge on the big screen at the 28th Flicker Film Festival. The Alamo Drafthouse Downtown, always a gracious host, will serve up this smorgasbord of food and flicks on Thursday, November 9th. The festivities will kick off at 7 p.m. and tickets are only $5.
Local filmmakers will be featured alongside national and international shorts that demonstrate the subtle genius that can only be captured on film. "Cold?" by Norwood Cheek, a Flicker LA regular, and Austin based Lion & Leon Production's "Unidentified Flying Object" will be included in this evening's collection of short films that promises to have something for everyone. After enlightening and entertaining the audience of Flicker 27 with their critical film insights on the eternal debate over the superiority of cop dog to sport dog movies, the DragonSquad will return to host another Flicker. This Austin-based improv troupe, composed of members of Ed 32 and the Polite Society, will continue to plumb the depths of cinematic criticism as only they can.
And because Flicker is always looking for ways to give back to its audience, gift certificates to Austin Java, Waterloo Records, Blazer Tag, and many more beloved Austin establishments will be raffled off. At the end of the evening, the audience has the opportunity to vote for their favorite films of the night. The winner will be added to a "Best of Flicker" compilation that will be exhibited at the end of the year.
To purchase tickets online, visit Alamo Drafthouse at http://www.alamodrafthouse.com.